History of Beach Towns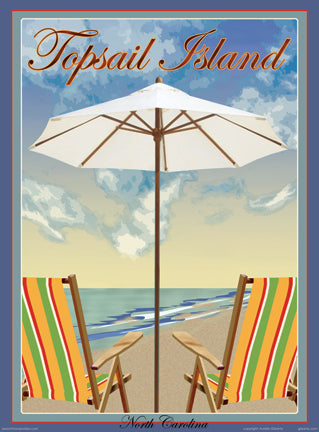 Topsail's name origins is a legend on the island. According to the tale, pirates would hide in the channel between the island and mainland waiting for merchant ships loaded with goods to pass. Then the pirates would attack! Over time, the merchants spread word of the hiding place and began looking for the topsail, which was the only part of the pirate ship that could be seen in advance. There is also a legend that Blackbeard hid his treasure on Topsail Island! The solitary nature of our beautiful poster is reminiscent of Topsail's quiet history when it was only accessible...
---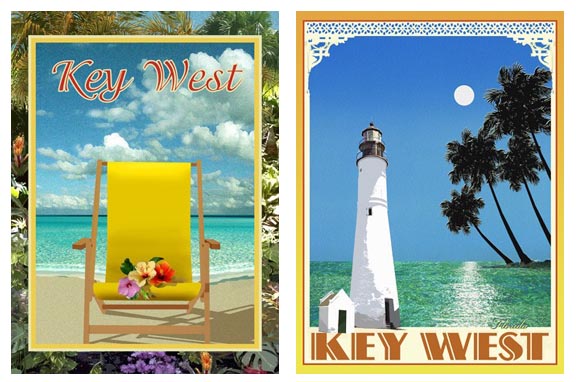 Key West is a vibrant island, at the very end of the chain of islands referred to as the Florida Keys. It is a quirky home to 6 and 7-toed cats descended from Ernest Hemingway's beloved cat, Snowball, as well as it's human residents, Conchs. Tennessee Williams, Ernest Hemingway, and 6 presidents, including John F. Kennedy, were visitors or part time residents on the island. In 1982, Key West briefly declared independence from the United States and became the Conch Republic. This was as a result of a Border Patrol Blockade.
---
Fire Island is a barrier island and carries some sinister secrets in its history. Jeremiah Smith, whose house was built in 1795 in Cherry Grove, was said to have lured ships to their doom and killed the crews. Over the years however the island developed several residential regions and became a popular spot for vacationers. It's lighthouse (featured in one of our posters) has been a feature of the island since 1858! It has been badly damaged by two hurricanes - The Great Hurricane of 1938 and Hurricane Sandy in 2012 - and is currently still divided in two because...
---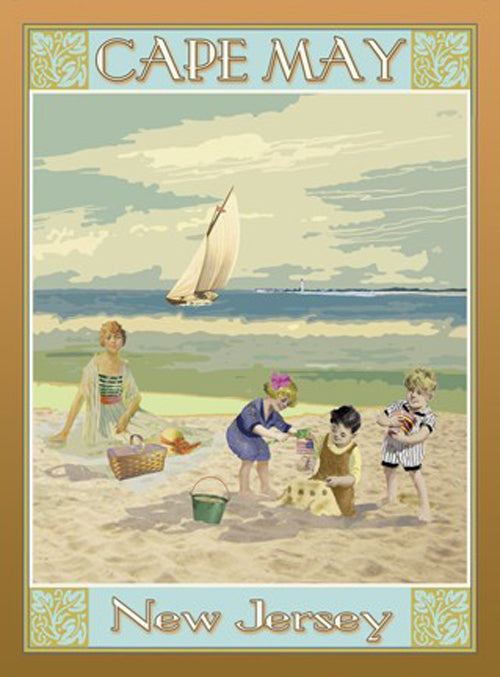 Cape May was named for Dutch captain Cornelius Jacobsen Mey, who explored and charted the area between 1611–1614! It is one of the oldest vacation destinations in the United States. It is known for it's music festivals, naval presence, and the beautiful "Cape May Diamonds," or quartz pebbles that wash up on the shore! It is also second largest collection of beautiful vintage "gingerbread" Victorian homes in the US (outside of San Francisco) so we were inspired by that vintage vibe for our poster!
---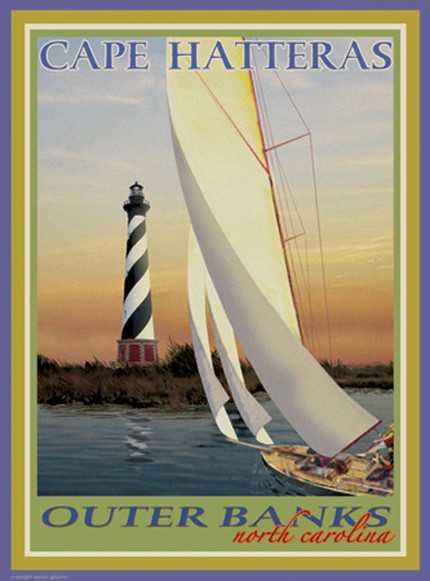 Our poster features the beautiful Cape Hatteras Lighthouse built in 1870. It is the tallest lighthouse in the United States! Why is this lighthouse so important? Because off the coast of the Outer Banks, the area is known as the "Graveyard of the Atlantic" - over 600 ships have wrecked here over the past 400 years. Hatteras is one of the oldest English given names in the United States, given by an expedition sent by Sir Walter Raleigh. Nowadays, the beach is known as one of the best beaches in the US, ranked by organizations such as Forbes, CNN, and the...