History of Beach Towns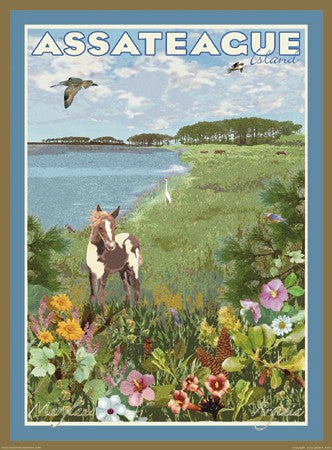 Best known for the "wild" horses who roam the island, the island was almost a developed and populated with full time residents! The Ash Wednesday Storm of 1962 (one of the worst Nor'Easters to ever hit the US) destroyed the development and roads. As a result of this destruction Assateague Island was instead labeled as a National Seashore under the National Park Service - preserving the natural beauty of the island and habitat for animals for generations to come!
---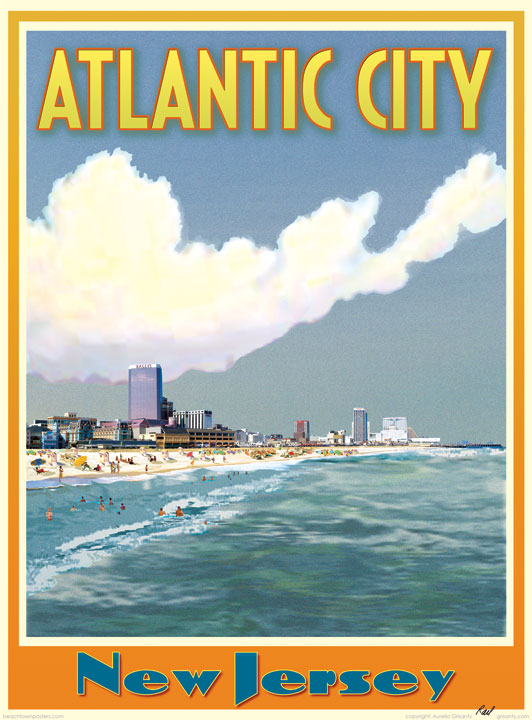 "Let's run away to Atlantic City, Let's feel the win in our hair!Sharing a grand and romantic city, Sea and salty air!Train's gonna take us, To the sunniest hideaway, Troubles will slide away!" In addition to being an amazing beach town, Atlantic City has a storied history as a MUSIC town too! Artists from Louis Armstrong to The Beatles to Broadway previews have come to Atlantic City to perform! One of our favorite musical mentions of Atlantic City is in the musical "Ragtime" which features a whole number dedicated to this classic American beach town!
---

Our poster features a ship, harkening back to the island's significance in the early exploration of North America by the Spanish. But Bald Head Island also held significance in both the Revolutionary War as a British fort, as well as during the Civil War where it served as a Confederate base. The island is only accessible by ferry for people - but that makes it an ideal island for sea turtles! Bald Head Island hosts a renowned program that protects sea turtle nesting.
---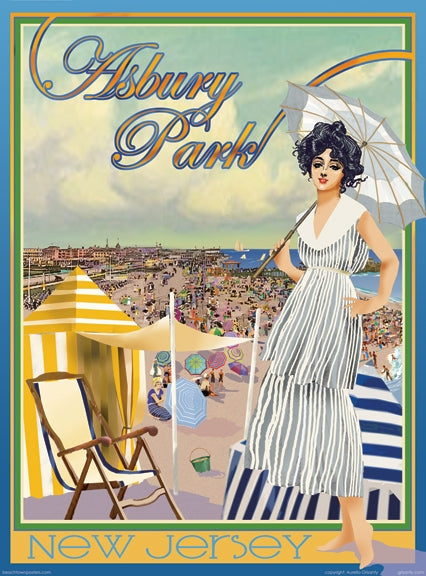 Asbury Park, NJ had it's first major boom during the height of the Victorian era in the 1890's and this brilliant architecture still dominates the town today. It also helped in the war effort - in a rather roundabout manner - by hosting the 1943 New York Yankees Spring Training! To reduce train travel, all MLB Spring Training was required to be east of the Mississippi River and north of the Ohio River. What better a place to host the NY Yankees than one of the most popular warm weather destination points around New York City!
---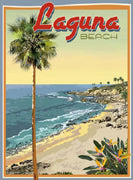 Laguna Beach has been a popular site for centuries - seriously! It has fossils and evidence all the way back to a prehistoric civilization. Nowadays, it is known for it's amazing outdoor sporting events. It has an intense surf culture, but is also host to an annual Open Volleyball Tournament, the Skimboarding World Championships, U.S. Open for lawn bowling, and features impressive mountain biking trails in the foothills. Our poster features the stunning beach and rocky hills of the beautiful Laguna Beach!